Your Mold Remediation
Experts
Our family owned and operated company specializes in providing comprehensive mold removal and remediation services throughout Southwest Florida to ensure a safe and healthy environment for your home or business. With our extensive knowledge and expertise, we are committed to addressing your mold concerns promptly and effectively.
Mold growth can occur as a result of water damage, excessive moisture, or high humidity levels. It not only poses health risks but can also cause significant damage to your property. We have the necessary tools, techniques, and experience to eliminate mold and prevent its recurrence.
Trust our Fort Myers mold remediation team with your mold removal needs today! Call today for a complimentary quote.
Exemplary Certified Mold
Remediation
Our mold remediation process begins with a thorough inspection of your property to identify the extent of the mold infestation. Our certified mold specialists use advanced equipment, such as moisture meters and thermal imaging cameras, to detect hidden mold and moisture sources. We leave no stone unturned, ensuring a comprehensive assessment of your property.
Once the mold problem has been assessed, we develop a customized remediation plan tailored to your specific needs. Our team utilizes industry-leading techniques and state-of-the-art equipment to contain and remove mold safely. We employ advanced air filtration systems to prevent the spread of mold spores during the remediation process in contained environments, ensuring the protection of both occupants and the surrounding environment.
We understand the importance of not only removing mold but also addressing the underlying causes to prevent its recurrence. We work diligently to identify and help customers resolve the source of moisture, whether it's a plumbing issue, roof leak, or inadequate ventilation. Our goal is to create a long-lasting solution that promotes a mold-free environment.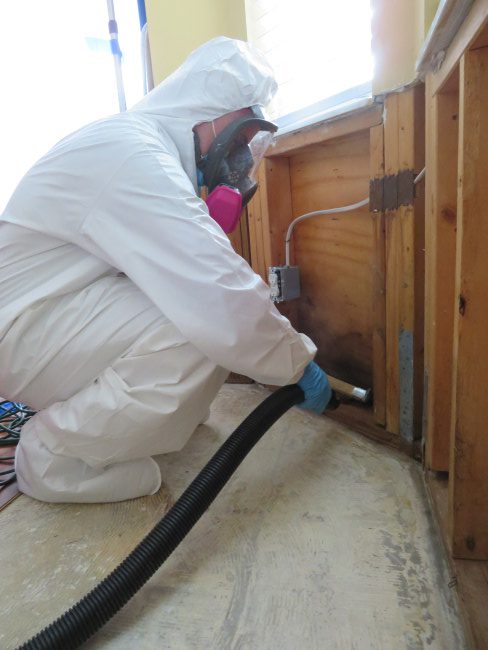 Why should you choose our team for your mold remediation needs in Southwest Florida?
24/7 Emergency Response: We offer round-the-clock emergency services to address water damage and urgent mold situations. Mold can spread rapidly, so we are available anytime, day or night, to provide immediate assistance and prevent further damage.

Certified Mold Specialists: Our team consists of highly trained and certified mold remediation specialists. We stay updated with the latest industry standards and follow strict protocols to ensure safe and effective mold removal. You can trust that our experts have the knowledge and skills to handle your mold concerns with precision.

Extensive Experience: With over 17 years of experience in mold remediation, we have successfully treated a wide range of mold infestations in Southwest Florida. Our expertise allows us to navigate various mold types, from common household molds to more complex and stubborn mold species.

Local Knowledge: As residents of Southwest Florida, we are familiar with the unique environmental factors that contribute to mold growth in the region. We understand the challenges posed by the humid climate and are equipped with the expertise to address mold issues specific to this area.

Customer Satisfaction: We prioritize customer satisfaction and strive to deliver outstanding service and ensure your complete satisfaction throughout the mold remediation process. Our team is dedicated to restoring the safety and comfort of your property efficiently and effectively.
We welcome the opportunity to become your trusted mold remediation partner in Southwest Florida. Our knowledgeable team is ready to assist you in creating a mold-free environment for your home or business. Contact us today to schedule a consultation or to learn more about our services. Let us help you breathe easy and enjoy a healthier living or working space.
Our dedicated technicians welcome the opportunity to educate you of your options and earn your business! Contact our office directly at (239) 277-0042 or complete the form below for a FREE estimate!